Hawaii - The Big Island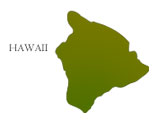 The biggest island of the six main islands is the island named Hawaii. It is generally referred to as the big island simply because it is double the size of all of the other Hawaiian islands combined, so the phrase "the big island" truly fits.
The big island of Hawaii has 266 miles of coastline and is approximately 4,000 square miles. And although the big island is the biggest it is the youngest of the six. The big island of Hawaii is a result of two volcanoes, the Mauna Loa and the Mauna Kea.
The big island of Hawaii experiences great weather year round and although it has two seasons, summer and winter, the temperatures are always balmy making the big island the perfect location for a vacation at any time of the year.


Sheraton Keauhou Bay Resort & Spa

Price range: $137-2922

Sheraton Keauhou Bay Resort & Spa is built atop an ancient lava flow on the shore of Keauhou Bay, this resort features spa & fitness facilities, fantasy pool with 200 foot waterslide, manta ray dives, wedding chapel, luau, adjacent golf at Kona Country Club and more. Rooms are a spacious 450 sq feet with lanai and feature Sheraton "Sweet Sleeper" beds and Sweet Bath amenity line, Terri robes, in-room safe, coffe maker and mini-refrigerators. Book now and save up to 55% on select rooms with our "Endless Escape" promotion!

Maui—The Valley Island

Maui is another beautiful island that makes up the Hawaiian Islands; however unlike the constant temperatures the other islands experience Maui experiences a wide range of temperatures depending on location. For example, in Hana the average temperatures are from 71 degrees to 77 degrees and in Haleakala the average temperatures are 42 degrees to 50 degrees. The same goes for rainfall, in Hana the average inches of rainfall each year are 69 inches yet only 15 inches in Lahaina.
Of the six Hawaiian Islands Maui is the second youngest and was formed by the volcano Haleakala, the largest dormant volcano worldwide, and the Puu Kului volcano which is now extinct. After many years and erosion the two volcanoes created one island, Maui, which is the reason it is called the valley island.
Many tourists visit Maui each year and last year approximately 2.5 million visited the Valley Island, which has all the necessities for tourists and many amenities as well.


Kauai—The Garden Island

Kauai, at 5 million years old, is the oldest Hawaiian island and the most beautiful in the mind's of many simply because it has such lush plants, beaches, and amazing sunsets. Many tourists visit Kauai as a result and this beautiful Hawaiian island is almost always full because individuals are so anxious to see the amazing beauty of the 90 miles of coastline.
Kauai is approximately 540 square miles in size and while it has a population of more than 55,000 it is the least populated island of the major Hawaiian islands.
You will find some of the most amazing natural sights in Kauai from the Na Pali Coast to the Waimea Canyon and because of this more than 1.5 million tourists visited the island last year. Because of the main source of income on the island is tourism there are plenty of hotels, activities, restaurants, shopping, and anything you can imagine for tourists.


Wailua Bay View - Kauai

Price range: $115.5-200

The Wailua Bay View is a real jewel offering the perfect blend of beautiful and affordable. These one bedroom ocean front, ocean view condos are perched on a small bluff right on top of the Wailua Bay! You can sit on your private lanai sipping your morning cup of coffe and embrace the blue Pacific Ocean while you watch the green sea turtles paddle about.  We are offering Wailua Bay View at 30% off on travel dates 1/1/14 - 11/15/14!

Lanikai Resort

Price range: $165-386

Beautiful and serene Lanikai Resort offers beachfront luxury at a reasonable rate! Located on the east shore (the Coconut Coast), Lanikai is centrally located on the island of Kauai making it a great jumping off spot to see the beauty of this island. With only 18 condos at this resort, Lanikai offers a quite, serene vacation experience just steps from the beach. Each of these well appointed, spacious 2 bedroom condos come with full kitchens, wireless internet, washer/dryers in units, and the amazing "Heavenly Pillow Top" king beds to ensure a great nights sleep. We are now offering this property at an average of 25% off for travel dates 5/4/11 through 12/20/11!

Waipouli Beach Resort & Spa - Kauai

Price range: $275-521

The Waipouli Beach Resort & Spa is an ocean front luxury resort centrally located on the east side of Kauai near the town of Kapaa. The resport is fairly new, having been opened in 2006. Starting as low as $ 275 per night, the Waipouli Beach Resort contains 118 condos tastefully decorated with warm Indonesian wood and Peruvian travertine stone tiles. It is a full service resort offering on site Aveda Spa, the Tahitian Lanai Bar & Grille, and a concierge desk located in the main lobby to aid you with your acitvities. The highlight of Waipouli Beach is the elaborate waterway which offers a heated saltwater river which winds its way across two acres of property. The water system includes flumed waterslides, beautiful waterfalls, a cave, shallow pools designed just for children, three sand-bottomed whirlpools and the main swimming pool with poolside service.

Poipu Shores

Price range: $279-573

This is a dramatic ocean front property located next to Poipu beach on Kauai's sunny south shore. These one, two and three bedroom condominiums offer all the necessary amenities to enjoy a relaxing vacation. When in season, you can watch whales breach and sea turtles float about from your private lanai. It is a short walk to several nice restaurants and one of the best body surfing beaches in the world! We are offering Poipu Shores at 25% off 3/1/11 through 12/22/11!

Hale Awapuhi - Kauai

Price range: $295-350

Unique and beautiful Hale Awapuhi is the ultimate Hawaiian retreat. This nine unit condo offers privacy and luxury. Located in Wailua on Kauai's east side, Hale Awapuhi is nestled right on top of it's own small but private white sand beach and features an ocean facing swimming pool.

Oahu—Then Gathering Place

Everybody has heard of Honolulu, but few people realize that Honolulu is located on Oahu. This is amazing yet true. Honolulu does exist on Oahu which is the third largest Hawaiian island and has 607 square miles and boasts 112 miles of coastline. Oahu is the second oldest Hawaiian island and is home to the majority of the state's population.
While Oahu makes up only 9.2% of the total land mass in the state of Hawaii more than 80% of the state's population lives on Oahu. In addition to this, approximately 9% of Oahu residents are made up of US military personnel.
Tourism is the main business of the island and while the other islands receive a lot of visitors, approximately 5 million tourists visit Oahu each year. When you visit Oahu you will get a sense that it is more populated than it is simply because so many tourists visit each day.
Now, when you begin planning your vacation to Hawaii you will know there are a variety of islands to choose from and depending on what you want to do and see will affect which island or islands you choose for your vacation!


Molokai Island

This island was the location where individuals suffering from Leprosy in Hawaii were dumped to live out the rest of their days while the disease ate away their flesh. Literally, Molokai Island was the last place anyone wanted to visit. However, in the mid 1800s a Belgium priest arrived and made the victims of Molokai island feel as if they had some hope.
Today Molokai Island still has a resident population of leprosy victims, although the number is very small. The rest of the population is mostly Hawaiian and they simply enjoy living daily life fishing and spending time with their family. As a result, if you are traveling to Hawaii and looking for the most peace and relaxation you can find then you should consider Molokai.
Molokai is the third oldest Hawaiian island at 2 million years old. It rose up from the sea to make an amazing island that is tranquil, beautiful and exhibits the lifestyle of old Hawaiian culture.


Lanai—The Pineapple Island

The island of Lanai is another island that makes up the chain of islands in Hawaii. However, Lanai is considerably different than the other islands. Lanai is not very large and has just over 141 square miles with coastline making up 41 miles, although it is the sixth largest of the eight islands. The island is 18 miles wide and 13 miles long and there are very few paved roads on the island. In addition, Lanai island receives very little rain each year, approximately 37 inches, so it is dryer than some of the other islands.
Lanai used to be the biggest pineapple plantation in the world, however today the pineapple plantation is made up of less than 100 acres. And the once called " Pineapple Island" is now making the majority of its income from tourism rather than pineapples.
Over 98% of Lanai's land is owned by the Lanai Company, which is a development company. And the general population of Lanai is less than 3,000 people while tourism brings in about 95,000 tourists each year.